Call the show at 1.888.971.7243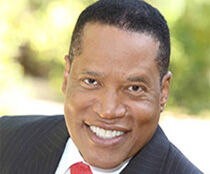 Larry Elder is an American lawyer, writer, and radio and television personality who calls himself the "Sage of South Central" a district of Los Angeles, Larry says his philosophy is to entertain, inform, provoke and to hopefully uplift. His calling card is "we have a country to save" and to him this means returning to the bedrock Constitutional principles of limited government and maximum personal responsibility. Elder's iconoclastic wit and intellectual agility makes him a particularly attractive voice in a nation that seems weary of traditional racial dialogue." – Los Angeles Times. Not for the timid and weak of mind… no special interest group escapes the author's indictment… Elder's voice is refreshing even when you disagree with him." – Publishers Weekly
Show Links:
---
Friday, December 3, 2021
---
Thursday, December 2, 2021
A USA Today-Suffolk University poll placed Vice President Kamala Harris' approval ratings at 28%, 10 points below that of President Joe Biden. The U.K. Telegraph tweeted: "With Kamala Harris looking unelectable, the Democrats are considering the nuclear option. Whispers in Washington suggest Joe Biden's camp has a plan to find ...
---