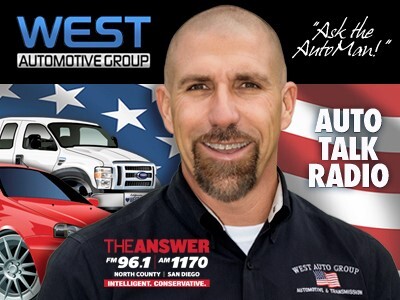 Auto Talk covers everything from Simple Oil Services, spark plugs, transmission issues and everything in between.
Find out the automotive information you need to keep you, your family and your vehicle safe on the road. If there are any automotive topics you'd like to see on a future segment, email [email protected].
Call The Show: 1-888-344-1170
Show Links:
---
Host Brian Bowersock, owner and operator of West Automotive Group for 20 years, is a well-known Automotive Expert and an ASE Master Certified Technician with ASE L1 advanced certification. Brian is also a Certified Smog Technician, with 25+ years in total under his belt in the automotive business. Brian is known for his expertise in the San Diego Market, and can also be seen on The CW San Diego Friday mornings at 9 a.m. and Wednesday Mornings on Fox 5 News @ 9:45 am as The Auto Man giving automotive advice, to keep your vehicle safely on the road. West Automotive Group has four locations to serve you in North County (Escondido), East County (El Cajon), Central San Diego (Kearny Mesa), and Miramar (UTC).
The Automobile knowledge from Brian brings a very popular and informative Auto Talk Show to the 1170AM and 96.1 FM weekend line up. Call this weekend to get all of your automotive questions answered by the best in the business! They are ready to help!
Auto Talk's Sponsors: West Automotive Group
Interstate Batteries of San Diego – A Battery for Every Need - Enjoying a reputation for top-quality products, business innovations, and consistently reliable service, Interstate Batteries is the No. 1 replacement brand battery in North America. Interstate Batteries continues to thrive on our innovation as well as our good old-fashioned business principles.
Call The Show: 1-888-344-1170