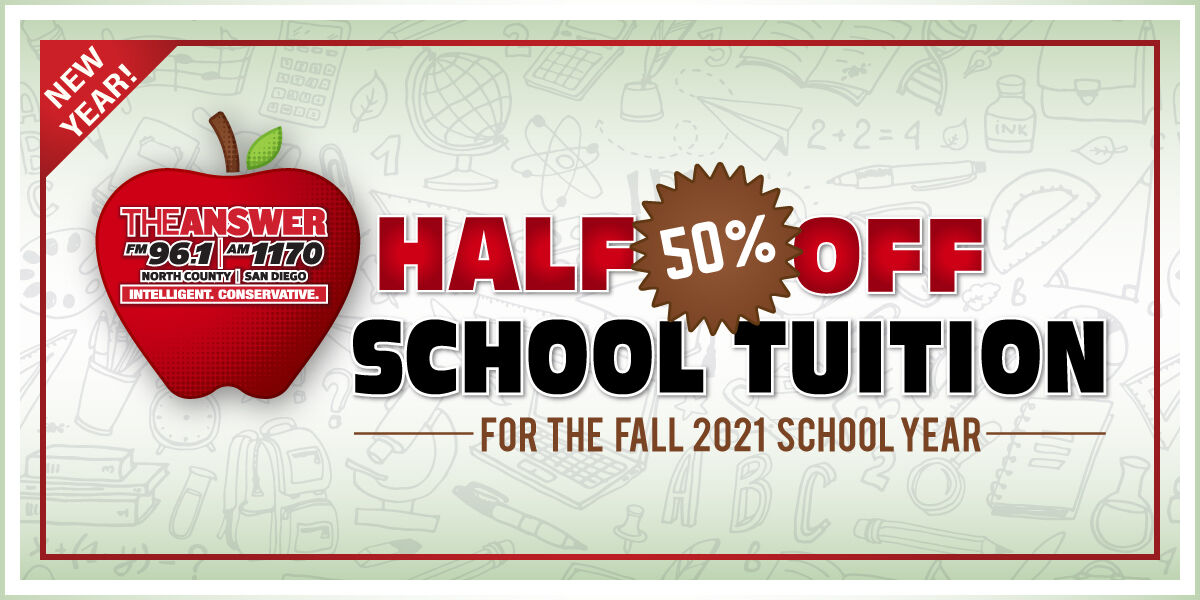 We know how much you value your child's education. We also know how hard it can be sometimes to balance the importance of that education with the cost. That's why we started The Answer Half-Off Tuition campaign.
Call 1-844-800-5757
It's our mission to work with private schools throughout the San Diego area to provide tuition for families at half the normal cost. We work with all kinds of schools in the city and in the suburbs. These offers are exclusive to us, and the number of vouchers are limited. It's our desire to provide your family with excellent educational value.
For more information on any of the schools on the website or questions about qualifications, please call 1-844-800-5757.
855 Brotherton Road
Escondido, CA 92025

Elementary-High School

Educate For Life
School of Apologetics

Online

8th Grade-College Students

Heritage Christian School

Homeschool

Preschool-High School

320 Date Street
Spring Valley, Ca 91977

Elementary-Junior High

Online Christian Psychology
Masters Program

Higher Education

200 Riverview Pkwy
Santee, CA 92071

Higher Education
If you do not see the school that you are interested in, please call 1-844-800-5757 and we will contact the school on your behalf.
TERMS OF AGREEMENT
Each tuition voucher is valid for the tuition cost for attendance at the specified school for the 2021-2020 Spring through Fall. All other costs of attending the school, including books and supplies, uniforms, and fees to participate in sports or events, are not covered by the voucher and are the responsibility of the student and his or her parent or guardian. Each voucher may only be used by a new student not enrolled at the specified school.
The purchase of a voucher does not guarantee admittance for a student to the specified school, and the student must meet all school admission, attendance, and conduct requirements to enroll and attend throughout the school year. The voucher is not transferable, non-refundable, non-cancellable and may be used only by a family or household member of the purchaser. The voucher is not returnable or redeemable for cash, except if a school confirms to The Answer San Diego that a prospective student with a voucher completed all application requirements but was not admitted to the school, in which case upon request by the voucher purchaser The Answer San Diego will refund the cost paid to The Answer San Diego for the voucher. The voucher purchaser should consult with his or her tax advisor concerning the tax treatment of payment of tuition using the voucher.